HDD Swivel, Horizontal Directional Drilling Swivels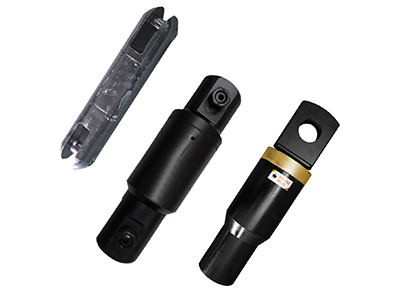 Product Description
HDD swivel is an essential part for all horizontal directional drilling works. HDD pull-back swivel must be able to bear both the pull strength imposed by pull-back actions and swivel strength and side-load resulted from rock or other conditions. Bearings of the swivel joints here at our company are suitable for absorbing thrust and radial load. Our HDD swivel joints adopt specially designed sealing elements, which can prevent an early failure of bearings resulted from entry of dirt into the bearings. The pull-back swivel joints here at our company are available to undertake mud, dirt and any other underground objects and they are easy for maintenance.
Features
Geotec is available in providing various HDD swivels, including models covering 15T, 25T, 40T, 60T, 80T, 100T, 200T, 300T, 400T, 500T, 600T, 700T, 800T etc.
HDD swivel pull-backs here at our company adopt high quality forged alloy steel and bearings, such as SKF and TIMKEN.
Our HDD swivels have longer service life and greatly reduce construction risks
It is easy for dismantle and maintenance
Optional
Direct connect & double-eye swivels
Material: HDD pullback swivels here at our company adopt high quality alloy steel and quality bearings, and we have a test on them based on max swivel and torque to achieve better product quality details of and ensure excellent mechanical performance of the swivels.;
Sealing: We use a combination of sealing to avoid grease leakage, prolong its service life and reduce construction risks;
Maintenance: HDD swivel is designed with special grease, which is high temperature, pressure-resistance, less likely for evaporation under rising temperature and the bearings have longer service life.
Built-in HDD pullback swivel
Advantages: Built-in HDD pullback swivel is available in improved operability even under narrower space and reducing drilling accidents.
Weakness: Service life of hole opener has effects on that of the pullback swivel, which is costly
External HDD pullback swivel
Advantages: Being available for use repeatedly and cost saving
Weakness: It increases risks of hole opener inside the drilling hole and might lead to bending of pullback swivel in the hole.
How to choose the right HDD pullback swivels?
Selection of right pull-back swivel shall depend on both the machine capacity and pull-back load. When choosing a pulling swivel, you should select one which has the same or larger capacity than that of the machine. Please feel free to contact us for choosing the best and most suitable HDD swivel for your HDD works.